15 Popular Tented Wedding Ideas that You Can't Miss
Due to the COVID pandemic, there's been renewed interest in outdoor tent weddings, since there are safety benefits to hosting your event outside.
Tented weddings have no limitation to wedding locations be it at a backyard, country club, farm, and any event space with large enough grounds. Craft an inviting tented entry fit for a grand entrance, create softness with cascading drapery, bring the outdoors in with live plants and trees, and set the tone for your post-ceremony design with a collection of ceiling installations are some ideas for modifying your tented space.
An assortment of whimsical décor, creative lighting, and custom flooring are characteristics that help to distinguish these weather-proof foundations for your wedding. Renting a tent is expensive (starting at $1,500 for 100 guests), and you're also responsible for the cost of all the other rentals, décor, and equipment it takes to turn the raw space into an inviting atmosphere for a wedding.
If you're considering an outdoor tent wedding, you've likely checked out Pinterest for design inspiration. Nearly any décor, theme, or color palette you're envisioning can be done in a tent, whether you want a country-inspired rustic wedding, a romantic garden wedding, or an over-the-top, chandelier-filled elegant wedding, but each comes with its own budget and logistical considerations. Consider these top things to help you create the ultimate tented wedding celebration.
Head Table Hanging Décor Ideas
A Mountain Top Wedding With Floral Hanging and A Lot of Color!
Add hanging paper lanterns for a rustic touch
Crystal chandeliers elevated the elegant theme
Bare light bulbs and floating greens combine the best of the natural and industrial aesthetics
The greenery hanging vines
Popular Types of Tents
Use draping to add a special touch to an outdoor tent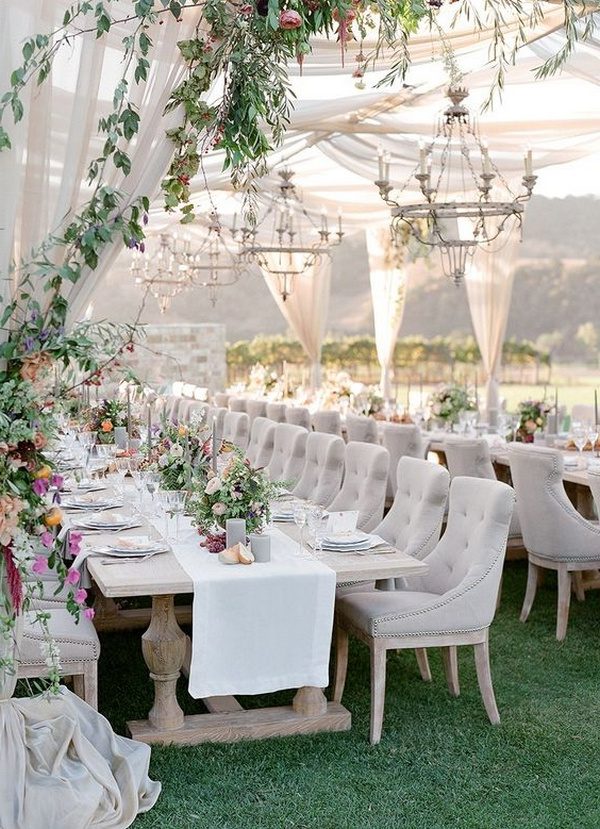 Decorate wedding tent's entryway
Draped fabric ceiling with romantic lights
Wedding Tent Swings
Lounging area for wedding reception
Incorperate your color scheme into wedding tent