2021 Wedding Color Scheme Trends: Burgundy and White
Burgundy is back this year and you can see it everywhere…On wedding blogs, social media, maybe, at your wedding.This berry-colored hue can be paired with a variety of colors, from blush, gray, rose, gold to green.Of coures, the classic wedding color-white also workes greatly with burgundy.When combined together,these two colors can create a wonderful wedding that wows your guests.
This season, the classic burgundy and white wedding color scheme provides a rich foundation for the wedding palette.This color combination also shows hints of modernity.If you are planning your wedding and prefer retro and elegant wedding look, this article can do some help.Here are some burgundy and white wedding ideas that might make you rethink your wedding colors.Enjoy!
Burgundy and White Wedding Decoration Ideas
Don't be limited to your clothing and flowers. When incorporating burgundy into your wedding, work it in to your linens, jewelry, and accent pieces to your table scape and your favors. Even the smallest touch of burgundy will go a long way.
Burgundy and White Wedding Bouquets
Burgundy is an easy color to incorporate in your flowers. Whether you choose burgundy, white, and greens -OR- you want to add in a pop color like blush or fall tones, the base of your floral being burgundy will make a huge impact on your big day.
Burgundy and White Wedding Cakes
When you think of a wedding cake most people tend to see a white frosted, tiered cake. With that white base it makes burgundy accents pop even more, but don't be afraid to go for the gusto and have a burgundy cake or accent just a single layer in that color.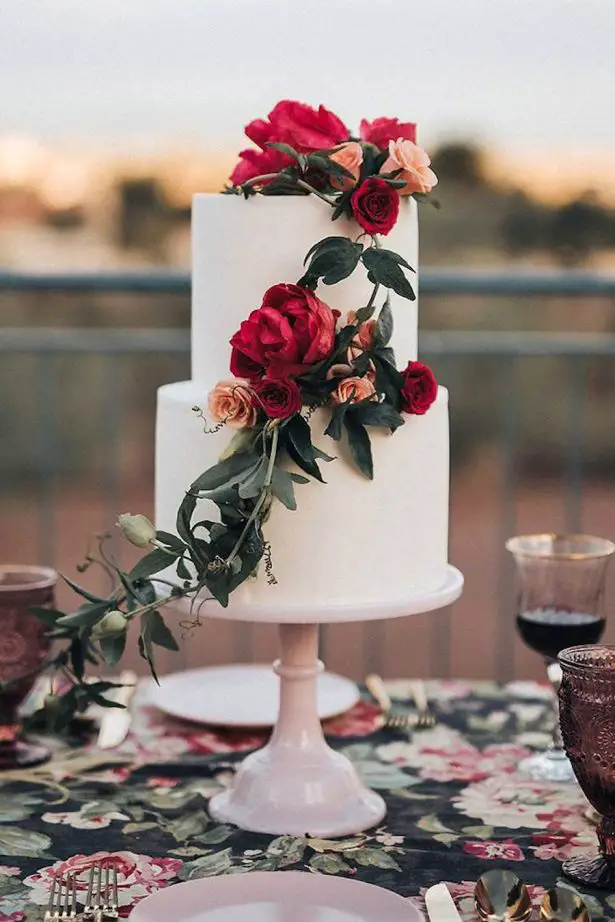 Burgundy Bridesmaid Dresses
Burgundy is a beautiful color on all skin tones. If you have a lot of bridesmaids you can also put some girls in blush tones to visually break it up. If you are wearing a white or ivory dress, you are sure to stand out standing next to your girls.
Burgundy Inspired Wedding Invitations
Your guests love to get a glimpse of what's going on for your wedding and the thing they are most fascinated with is the color scheme of the wedding. Burgundy inspired wedding invitations are certain to get that point across that your fabulous wedding is burgundy and whatever other color you decides to pair it with.
Credit:stylemepretty/bellethemagazine/theknot/whimsicalwonderlandweddings/weddingcolors/pinterest