50+ Creative Ideas to Decorate Your Wedding Car
Decorating the wedding car is definitely a fun and creative way to honor (or even embarrass) the newly married couple!. You've seen it in all your favorite wedding movies: tin cans trailing off the bumper and "just married" scribbled on the back window. But wedding car decorations don't have to stop there—they can be as unique as the couple themselves.
Whether you're planning for a drive-by wedding or simply want to spruce up the getaway car, there are tons of ways to make the happy news known. Whether you are dreaming of a fairytale carriage, planning to get a cute vintage car or simply want to pimp your own – we have found the best ideas for wedding car decorations to make sure you get the perfect exit on your special day.
There are lots of things to consider when it comes to wedding car decorations, including the wedding theme, colors and even the season. Not sure where to start? That's what we're here for! We've done the work for you and gathered our top picks from floral garlands to wedding car pom-poms. Shop our favorite decoration ideas below to help make the job a breeze.
If you'll be helping to decorate the couple's wedding car, here are lots of creative and fun ideas for you — including photos of all the best wedding car decorations & supplies to use!
Custom Just Married License Plate
Jacob & Pauline Photography
Flower Bows
Just Married Magnet
Just Married Window Sticker
Just Married Bumper Sticker
Just Married Banner
Just Married Wooden Sign
Just Married Car Flag
Balloons
Custom Initials Cling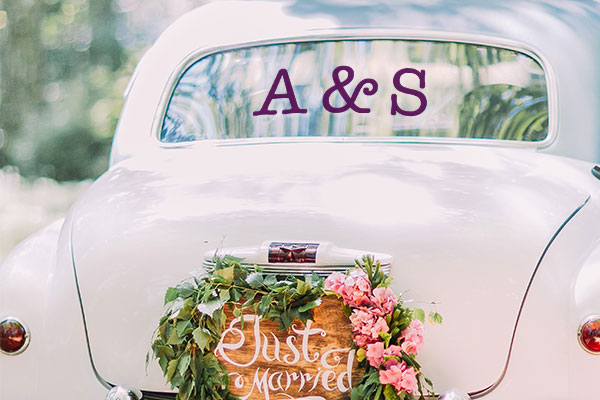 Custom Floral Stickers
Can trails
Elegant Organza
Wedding car tulle
Creative Ideas to DIY Your Wedding Cards